Post by Thea on Oct 11, 2020 23:39:50 GMT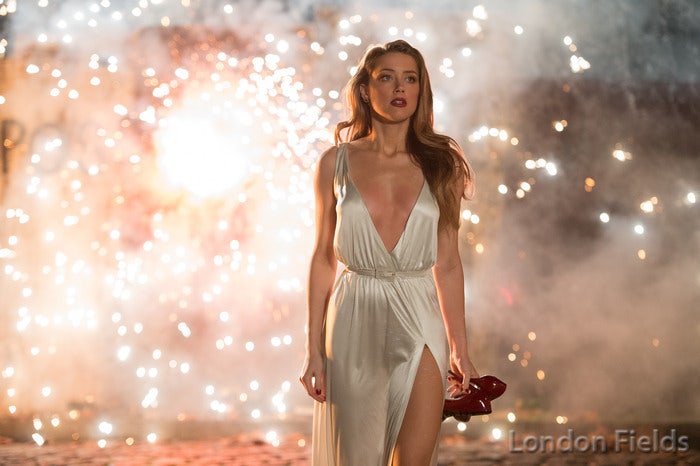 FIRST GLANCE
Full Name:
Thea Isobelle 'Belle' Rogers
Nickname/Alias:
Thea, T, Belle, Blondie, Barbie, Bitch
Age/Date Of Birth:
28 (March 2, 1991)
Sexual Orientation:
Straight.
Height:
5'7''
Occupation:
Detective for the CPD
Group:
Chosen
Play-By:
Amber Heard
A DEEPER LOOK
LIKES



❤ Coffee and wine, very much so

❤ Working out

❤ Reading

❤ Partying when she's feeling down



DISLIKES



🛇 Lies

🛇 Arrogance

🛇 Blue cheese

🛇 Cunning people


POSITIVE TRAITS



✓ She has embodied the tough girl personality, sticks and stones won't hurt this girl.

✓ Brutally honest

✓ Passionate and caring



NEGATIVE TRAITS



✗ Has a pretty brash outer layer

✗ Insecure, deep down

✗ Impulsive


SUPERNATURAL GIFTS
Ability Name: Electrokinesis


General Description: Electrokinesis or Lightning Element Control is the ability to manipulate electricity. As a variation of Elemental Manipulation, it allows the user to create, shape and manipulate electricity, a form of energy resulting from the movement of charged particles (such as electrons or protons), allowing control over electric fields, all charge carriers (Ions, Electrons, Protons, and Positrons), and electronics. One could eventually create thunderstorms, or —at its Godly tier, even go as far as manipulating anything that is formed by charged particles.


Electricity, just like any other element, can be unstable, and it can go out of control when triggered by anger or other strong emotions, so the user has to work not only on the power itself but the ability to control one's own temper in order to properly reign over the power.


D-Rank: Can sometimes control their powers (with practice). Ability to conduct, heat and/or charge objects with electricity. Draw energy from magnetic fields and redirect them towards something else. Cause electronic dysfunction (might be unintentional, your phone might not work near the user sometimes). When angry, might be able to produce an electric aura. The overuse of these abilities could be exhausting for the user and cause physical damage if they take it to extreme levels.
STORY SO FAR
Thea Belle Rogers was born on March 2nd, 1991 in the city of New Orleans, Louisiana. She's the first born daughter of Mathew and Rhea Rogers.

Her childhood years were spent in the 'Big Easy' of Louisiana, having a normal upbringing without much presence of any family other than her parents and her little sister, Allison. Things were easy for her while young: a somewhat wealthy family, an outgoing personality and friends that cared about her. That was until both Mathew and Rhea died in an inexplicable car accident while coming back home from a mysterious meeting they had with family members Thea had never met or heard about before. The death of her parents ended up with both her and her sister being taken by Social Services, going from one foster home to the other. She barely ever got to see Allie, and all the good things from her early years soon lost all meaning to her, being replaced by a tougher attitude and tall walls that kept her from letting the world hurt her.

Even if Thea had decided to not get close to people because of how she kept moving from place to place, she met a couple of people throughout the years, one of them being James Martan. Thea always liked the guy and saw him as a younger brother and someone she could trust, even after they went separate ways when she turned 18 and decided to try her luck in Crawford City, where she took the law enforcement entrance exam and went to Police Academy in order to become first a cop and ultimately part of the detective bureau for the CPD. She had been living a simple life, mostly keeping to herself inside of her tiny apartment, with the exception of a guy here and there that she picked up from bars whenever she went out.

It was years after she started her new life when one night she got a call from her sister. Allison had been taken by the same people who had taken their parents.

Without thinking about it twice, she grabbed her gun and started driving her black 69' Dodge Charger to New Orleans, not stopping until she got there. Seeing the city where she'd spent the first years of her life was a tough experience, but what came afterwards was even worse. A woman, whose name was Patrice, came knocking on her door to tell her that she was her and Allison's aunt, Rhea's sister; it didn't sit well with Thea, how this stranger was claiming to be family after all these years—her gut was telling her that something wasn't quite right. This aunt Patrice waltzed into her life, telling her about her family origins: both her and Allie were the descendants of an old coven of witches that went back all the way to Catherine Monovosin in France. This coven used to help protect New Orleans and the ley lines from all supernatural forces, maintaining the Natural Balance of things. The story even went as far as her family arriving in New Orleans due to Marie Laveau, the Voodoo Queen herself, who'd called for their help back in 1850… but Thea didn't want anything to do with learning magic. She had never heard of such a thing and to her it sounded like some made up bullshit coming from a crazed woman—a woman that had her sister captive.

Things got messy, the coven attempting to kill Allison because she wouldn't take over the leadership of it. And that's when Thea decided she wasn't going to let that happen; they had basically grown up separated because of what these people had done to their parents and she wasn't going to let them ruin or end her baby sister's life after everything she had been through. So she took her sister's place, sacrificing herself for her in a way that should have cost her her life. The memories were hard to put together, it was like some unsolvable puzzle: Thea remembered being stabbed, bleeding out. She remembered passing out and thinking that was it, that she was dying. But a couple of witch hunters showed up, they killed the witches and took Allison, leaving the older sister there, thinking she was dead.

But she wasn't. Somehow, Thea survived. She didn't know how, could not explain what had taken place, but if there's one thing she knew it is that she survived and came out a completely different person. Things started to change: she started developing abilities that she did not have before. It started small, static electricity being blamed for her shocking people ever so slightly while bumping into them. After going back to Crawford City, the blonde noticed things were changing within her entire being, but she could not explain what was happening, nor did she want to say anything about it. Not even to her few friends… at least not until she could even start to understand it.

PLAYER FACTS
Alias:
Thea
How Did You Find Us?:
Hound told me about this place <3
Experience:
It has been 84 years…
I Thea Rogers have read the site rules and understand them. The code word for the rules is: Elektro